Electric-vehicle maker Via Motors Inc. is working with a financial adviser to raise about $250 million in funding that would value it at $1 billion following the investment, according to people familiar with the matter.
The Orem, Utah-based company develops plug-in trucks and vans under the Vtrux brand. It shipped 300 vehicles in 2016 and its customers, including FedEx Corp. and Verizon Communications Inc., have driven 5 million miles in the company's trucks and vans so far, according to the company's website.
Via Motors, which would use the proceeds for product development, is also in talks with logistics companies to invest in the funding round, said one of the people, who asked not to be identified because the funding talks are private. The company's plans aren't final and the terms could still change, the people said.
A representative for Via Motors didn't immediately respond to a request for comment.
The company has also attracted the interest of special purpose acquisition companies, or SPACs, which have been heavily invested in the sector lately.
"We have seen the market respond dramatically to such entrants as Tesla, Rivian and Nikola and now working trucks and vans just got a lot smarter,"

Via Motors Chief Executive Bob Purcell said in a statement last month announcing a partnership with Mexico's AT Motors.
VIA Motors International, Inc. and AT Motors Corporation announce Co-Development Partnership Agreement
Partnership will launch a line of Urban Delivery Electric Vehicles (UDEV's) for Mexico and International sale and distribution.
Product line will include Urban Delivery Electric, Class 2 to 5, trucks and vans based on VIA's High-Efficiency Electric Drive Systems and Modular Powered Skateboard Architecture.
As part of this Agreement AT Motors will be responsible for assembly and support sales and distribution in Mexico.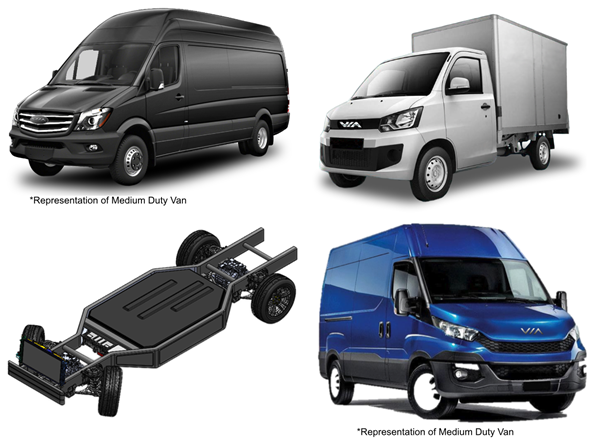 OREM, Utah , June 18, 2020 (GLOBE NEWSWIRE) — VIA's corporate vision and mission is to Electrify the World's Commercial, Urban Delivery Fleets by providing superior life cycle economics for our Blue-Chip Fleet Customers, improving the environmental footprint, and ensuring continued access to major urban centers. VIA is proud to partner with AT Motors as responsible global citizens.
VIA has a highly experienced team of automotive industry leaders and electric vehicle pioneers together with proven advanced electric drive technology. AT Motors, with its many years of quality production, assembly, distribution and sale of commercial vehicles, has agreed to co-develop and produce a range of Class 2 to 5 Urban Delivery Electric Vehicles (UDEV's) that directly address and satisfy fleet owners primary motivators for electrifying fleets, including sustainability, increased operating time and lower cost of ownership.
Bob Purcell, VIA Motors CEO, said "We have seen the market respond dramatically to such entrants as Tesla, Rivian and Nikola and now working trucks and vans just got a lot smarter. They are clean, quiet and efficient." He further stated, "AT Motors is an ideal strategic partner for VIA Motors in Mexico. We are honored and excited to be partnering with them. This agreement enables VIA to execute on our strategy with the launch of an expanded portfolio of UDEV's to meet the specific needs and requirements of our customers in Mexico."
"AT Motors is thrilled to partner with VIA at a time when the auto industry is undergoing a major transition to electrification, especially in the Commercial Vehicle sector with eCommerce and Last Mile Delivery driving unprecedented demand for delivery trucks and vans globally," said CEO Bernardo Garcia-Manzano. He added, "We are always exploring growth opportunities in the Mexican market and in other countries. VIA is a perfect fit for us in this regard."
AT MOTORS is a Mexican company founded in 2007 dedicated to the production, import, assembly, distribution and sale of vehicles of passengers, commercial vehicles, buses, agricultural machinery and construction machinery.
AT MOTORS has a plant for assembly of vehicles and machinery on 15 hectares located in Xalapa-Veracruz highway. Our plant has a production capacity of 15,000 units, has three flexible lines that can produce high variety of vehicles ranging from a small passenger sedan to heavy-duty trucks and construction machinery. In addition, it has numerous quality certifications for assembly and export of vehicles.
AT MOTORS has obtained representation to assemble and sell several brands such as: DFSK, MAXUS, FOTON, BAIC and SINOTRUK. Always exploring growth opportunities in the Mexican market and in other countries.
AT MOTORS we believe that an organization is more than a business, therefore, that from the beginning our people has been the engine of the company, being the key to the success of both professional and personal quality of the partners that make it up. We have developed teams of professionals that specialize in each of the parts of the value chain of the automotive business and have the knowledge and experience necessary to deliver solutions to the needs of our customers, looking for the continuous improvement of its products and services.
The MAXUS brand seems to be the one they are working with for the body ( Go Show SIte )
Via Motors Team: Mostly American Car Vets:
Don Runkle Involved with KCAC and VIA Motors
Kensington Capital Acquisition Corp – KCAC – $200M
Target:
North America automotive and automotive-related sector.
HCAC Hennessy Capitol $300M
Target:
We have entered into a letter of intent with a prospective target for an initial business combination in the electric vehicle (EV) and advanced mobility sector.
Don Runkle and Daniel Hennessey both went to Michagan State, Unknown years?
NEWS
Old News but "transformity Research" stated months ago "My sources also confirmed that Fisker will use autonomous vehicle technology company Velodyne Lidar in the Ocean as well. Ironically, Velodyne recently agreed to merge with Graf Industrial GRAF for $1.6 billion."
And Fisker tweeted this today so speculation is that it will be announced:
MFAC Announced Merger with BankMobile