The Best Place To Park Your Cash Right Now – HCAC Canoo Hyandai Kia
Future electric cars from Hyundai and Kia will use a platform related to one developed by American EV startup Canoo, the three companies announced Tuesday.

Canoo's platform, which was revealed last September in a minivan also called Canoo, is a skateboard-style dedicated EV platform where the battery sits flat in the center and an electric motor is situated at one or both axles.

For Hyundai and Kia's vehicles, Canoo will help develop a new platform to meet the required specifications of the Korean automakers. For example, it needs to fit a variety of vehicles ranging from small hatches to large vans.

The platform will also need to integrate systems required for self-driving cars, which Hyundai and Kia are developing with Aptiv.
"We were highly impressed by the speed and efficiency in which Canoo developed their innovative EV architecture, making them the perfect engineering partner for us as we transition to become a front-runner in the future mobility industry," said Albert Biermann, head of R&D at Hyundai and Kia. "We will collaborate with Canoo engineers to develop a cost-effective Hyundai platform concept that is autonomous ready and suitable for mass adoption."

Canoo isn't the only company helping the Korean automakers in developing EVs.

As for Canoo, it's currently testing its Canoo minivan and plans to start production in 2021. The company is looking to offer its cars via subscription only, where customers will have a monthly fee that covers all vehicle costs, including registration, maintenance, insurance and charging.
Hyundai will launch three new electric cars, starting in 2021
Hyundai is going to market a range of new battery-electric cars under Ioniq branding. The Korean automaker first introduced the Ioniq name in 2016 with a subcompact that comes in hybrid, plug-in hybrid, and BEV flavors, but early in 2021 those cars will be joined by the Ioniq 5, a midsize BEV crossover based on a 2019 concept called 45. In 2022, Ioniq will launch the Ioniq 6, an electric sedan based on the stunning Prophecy concept car from earlier this year. Finally, in early 2024, there will be a larger SUV called the Ioniq 7. It's not the first time we've seen this strategy from the automaker, which did the same thing with the creation of Genesis as a standalone luxury brand.
"The Ioniq brand will change the paradigm of EV customer experience. With a new emphasis on connected living, we will offer electrified experiences integral to an eco-friendly lifestyle," said Wonhong Cho, executive vice president and global chief marketing officer at Hyundai Motor Company.
Ioniq's first three BEVs will be built on a new platform that Hyundai is developing, called the Electric Global Modular Platform, or E-GMP, which it says is highly flexible with regard to body style and interior design. We can probably expect these cars to be built in serious volume; Hyundai Motor Group (which also includes Kia and Genesis) is aiming to sell 1 million BEVs a year by 2025.
The Prophecy A Hyundai Major win
2022 Hyundai Ioniq 5
Unfortunately, there isn't any info out on the Ioniq 5, though we can confirm we'll see it in the United States. What we can expect is the option of an electric motor at each axle and most likely a range exceeding the 258 miles of the similar sized Kona Electric.
The sighting of the Ioniq 5 comes just months after Hyundai and U.S.-based EV startup Canoo announced plans to co-develop a separate modular platform for electric cars. The Canoo platform will be flexible enough to spawn everything from small hatchbacks to large vans and will also incorporate self-driving technology. It isn't clear when the first Hyundai based on the Canoo platform will be launched.
So What, Why do we Care about Hyundai?
Because HCAC Hennessy Aquisition Corp IV is in "advanced talks to merge with Canoo."
HCAC Common stock CHart and Warrant
Stock News Auguest 10th 2020
Chinese Tesla, Nio Rival Xpeng Files To Go Public On NYSE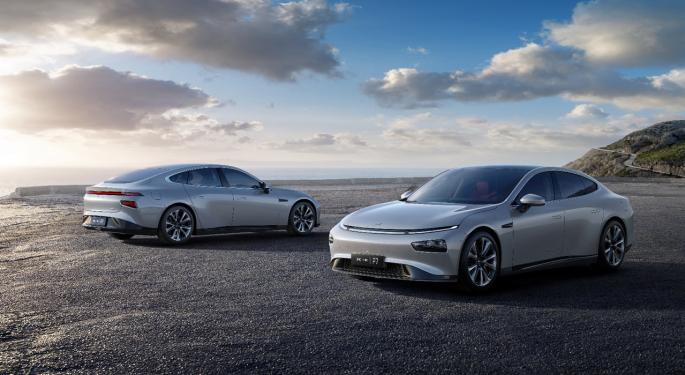 Chinese electric vehicle maker XPeng Inc. filed for an initial public offering with the United States Securities and Exchange Commission Friday.
The Alibaba Group Holding Ltd BABA 1.65%-backed company said it would list its shares on the New York Stock Exchange under the ticker "XPEV."
Date is BLANK on SEC filing – I will be buying opening EXT
NIO Inc. to Report Second Quarter 2020 Financial Results on Tuesday, August 11, 2020
They already announced the delivery update
NIO delivered 3,533 vehicles in July 2020, increasing by 322.1% year-over-year

NIO delivered 17,702 vehicles in 2020 in total, increasing by 111.3% year-over-year

Cumulative deliveries of ES8 and ES6 reached 49,615
RONN MOTOR GROUP, INC. ANNOUNCES TODAY ITS FIRST HYDROGEN FUEL CELL SUV, NAMED "MYST", ANTICIPATED FOR LIMITED RELEASE IN CALIFORNIA AND CHINA MARKETS IN 2022.
http://www.globenewswire.com/news-release/2020/08/10/2075845/0/en/RONN-MOTOR-GROUP-INC-ANNOUNCES-TODAY-ITS-FIRST-HYDROGEN-FUEL-CELL-SUV-NAMED-MYST-ANTICIPATED-FOR-LIMITED-RELEASE-IN-CALIFORNIA-AND-CHINA-MARKETS-IN-2022.html
HYCROFT Mining q2 came out and it was bad and stocks dumped
Operational Highlights
Year to date, Hycroft has focused on operating nine start-up pads to demonstrate the viability of its proprietary heap leach oxidation process on a large scale while it prepares the workforce, facilities and equipment to ramp up to full-scale operations. Below are some of the accomplishments to date:
General:

Increased workforce 35% year-to-date to 216 employees, including six key managers with extensive experience within their disciplines, with a goal of reaching 275 employees by the end of 2020
Recapitalized the Company providing a portion of the capital to construct a new leach pad and associated infrastructure, which is expected to be ready to begin ore stacking in the fourth quarter of this year and provide the infrastructure necessary to continue our pursuit of reaching feasibility study production levels
Became publicly traded on the NASDAQ Capital Market under the symbol "HYMC"
Entered into long-term agreements with reagent suppliers for key reagents such as soda ash, cyanide and lime
Secured all major permits necessary for near-term growth

Mining:

Expanded mining fleet with the rental of seven 240-ton trucks and one loader to increase mining capabilities
Improved mobile equipment maintenance team to transition to self-performed maintenance and discontinue the contractor-led maintenance applied since start-up
Began active in-pit drilling and blasting of fresh ore and reduced mining of stockpiles

Crusher:

Refurbished and recommissioned the crushing system, increasing average tons crushed from 338,000 per month in the first quarter of 2020 to 459,000 per month in the second quarter, an increase of 36%
Established a comprehensive preventative maintenance program and initiated an ongoing operator training program to improve crusher efficiency and reduce downtime
Strengthened plant maintenance team with experienced maintenance and electrical & instrumentation technicians

Oxidation Heap Leach Process:

Demonstrated process on initial leach pads one and two achieving higher than feasibility level gold recoveries for Brimstone ore (82% versus 65% in the feasibility study) and Central ore (91% versus 70% in the feasibility study)
Improved solution management system to increase solution distribution to leach pads
Commenced leach pad expansion and expect to begin stacking in the fourth quarter of 2020

Process:

Downstream process infrastructure is in place to ramp up operations; currently operating the Brimstone Merrill-Crowe facility and refinery
Began planning to restart the 21,500 gpm North Merrill-Crowe plant in 2021 to meet increasing solution flows from the new leach pad
Steve Jones, Interim President & CEO, stated "there have been a number of improvements at the mine recently that are building a strong foundation for the next phase of operations, including adding experienced technical people and increasing the reliability of process infrastructure. While the next few months are still considered to be transitional, we are looking forward to utilization of the new leach pad and being able to ramp up to feasibility study operating levels."
Penny Stocks to Day Trade Right Now
NPAWW Spiking over 25% for past couple weeks
SOACW was up over 25% today – Anyone Buy When We Did the Last Video We did You Could have Multiplied your Money today!