SPAC News
Premier League rival in legal row tackles market float
Sportradar is limbering up for a New York listing in early 2021 By Oliver Gill 31 October 2020 • 8:00pm
A gambling data company embroiled in a legal row with football's English Premier League is limbering up for a stock market float that could top $10bn (£7.7bn).
Swiss-headquartered Sportradar is preparing a beauty parade of investment bankers ahead of a public debut on the New York Stock Exchange early next year, industry sources said.
Former basketball player Michael Jordan would be among those in line for a payday, with Sportradar currently targeting a broad valuation of between $5bn and $10bn, insiders said.
A special-purpose acquisition company, or SPAC, could be set up to fast-track the process, they added.2020 Tech IPOs
Sportradar has served legal proceedings against Betgenius and Football DataCo, a joint venture between the English Premier League, Football League and Scottish Professional Football League.
Betgenius was granted an exclusive licence to match data from Football DataCo, an arrangement Sportradar claims is in breach of UK and EU Competition Law.
(Bloomberg) — Technology stocks are in an "enormous" bubble, Greenlight Capital's David Einhorn said in a letter to investors.
"Our working hypothesis, which might be disproven, is that September 2, 2020 was the top and the bubble has already popped," he wrote in the Oct. 27 note, seen by Bloomberg.
Tech stocks have driven the market's gain this year. The Nasdaq 100 Index is up 33% since Jan. 1, led by gains in Zoom Video Communications Inc and Tesla Inc. By contrast, the S&P 500 has risen 5.3%.
Einhorn points to "an IPO mania," huge market concentration in a small group of stocks or a single sector, extraordinary valuations and "incredible" trading volumes in speculative instruments as signs of a bubble.
As a result, Greenlight has adjusted its short book including adding a fresh bubble basket of mostly "second-tier companies and recent IPOs trading at remarkable valuations," he wrote.
Potential SPAC's that could piggy back it?
Jaws JWS
Maybe IPOF The AlphaFabet of the new Chamath SPAC's?
Are People Really going to Care? Lets Look At DMYD
Contributor Renaissance Capital Renaissance Capital Published Oct 30, 2020 9:10AM EDT
CONX, a blank check company formed by Charles Ergen targeting wireless communications, raised $750 million by offering 75 million units at $10. Each unit consists of one share of common stock and one-fourth of a warrant, exercisable at $11.50. The company had originally filed to offer 100 million units at $10, before downsizing earlier this week.

The company is led by Chairman Charles Ergen, who is most widely known for co-founding DISH and managing the spin-off of DISH's technology and set-top box business into EchoStar, which is now publicly traded. Ergen is the current chairman of DISH and has had a hand in developing a number of TMT companies throughout his tenure. The SPAC intends to target the TMT industry with a specific focus on wireless communications.

The Littleton, CO-based company plans to list on the Nasdaq under the symbol CONXU. Deutsche Bank acted as lead manager on the deal.
The article Charles Ergen's SPAC, CONX prices $750 million IPO at $10 originally appeared on IPO investment manager Renaissance Capital's web site renaissancecapital.com.
https://www.forbes.com/sites/jeffkauflin/2020/10/30/will-hippo-be-the-next-fintech-unicorn-to-exit-via-the-spac-door/?sh=683971bb72b0
Will Hippo Be The Next Fintech Unicorn To Exit Via The SPAC Door?
Jeff KauflinForbes StaffFintechI cover fintech, cryptocurrencies, blockchain and investing.
As an increasingly popular way to take a company public, SPACs, or Special Purpose Acquisition Companies, are weighing heavily on startup CEOs' minds. They're faster to set up than traditional IPOs, and hundreds of investors are trying to convince entrepreneurs to use them. So far in 2020, financiers have sunk $63 billion into SPACs, more than the total sum invested in them from 2009 through 2019, according to Spacinsider.
In its plans to go public, fast-growing fintech startup Hippo is considering a SPAC. Hippo CEO Assaf Wand says he prefers them to traditional IPOs, largely because they wrestle some control away from Wall Street. "I'm not the biggest fan of Wall Street in many ways," he says. "It hasn't served companies well."
He met with eight different SPACs over the summer. "It was about education," he says. "It wasn't about me vetting them." He says he'll also consider direct listings but hasn't researched them as deeply yet. "I'm considering everything," he adds. "Every prudent CEO should look at all three options."
Hippo is a five-year-old Silicon Valley startup that offers homeowners insurance. It uses satellite imagery, public data and smart-home devices like water-leak detectors to speed up the application process and minimize claims. In July, it raised $150 million in funding at a $1.5 billion valuation, up from $1 billion a year earlier. As of the summer, it was bringing in $270 million in annual premiums, up 140% from the year prior. Wand says there's a good chance he'll take his company public in 2021.
SPACs form when investors or "sponsors" raise money—usually hundreds of millions of dollars—with the intent of acquiring a private company and taking it public. They take their "blank check" entity public before deciding what business they'll buy.
They take as little as eight weeks to execute compared with the roughly six months for traditional IPOs. One reason they're popular with investors is because the funders can walk away with a large ownership stake—often 20%—in the newly public company. Several industry insiders, including Acorns cofounder Jeff Cruttenden and venture capitalist Ryan Gilbert, say that every fintech unicorn is being approached by SPACs. In September, real estate fintech company Opendoor announced it would go public through a SPAC created by Chamath Palihapitiya.
Both SPACs and traditional IPOs require companies to pitch their business to large institutional investors like T. Rowe Price, telling them to invest at the highest valuation possible. Wand likes SPACs because they give CEOs more flexibility in selling their story. For example, in a SPAC, CEOs can share projections for future growth, instead of being limited to discussing past financial performance.
"I think certain businesses are better talked about in the future than the past," says Ryan Gilbert, a Hippo investor and co-sponsor of a $750 million SPAC with Bancorp founder and former CEO Betsy Cohen. "That's what venture capital is all about."
In traditional IPOs, investment banks organize the stock sale process. They select the large investors who will be pitched on a company, and they arrange meetings with CEOs. "The meetings are 30 to 45 minutes over Zoom, and then Fidelity decides if they'll invest," Wand says. "In a SPAC, investors can set up seven different meetings. In many cases, you can educate your investors more. I want to have educated, resilient investors." Founders like long-term investors because they're less likely to sell their stock—and potentially send its price downward—if the business has a bad quarter.
Silicon Valley venture capitalist Bill Gurley beats the drum for SPACs. He argues that banks design traditional IPOs so that companies are undervalued initially but see a big "pop" on the first day of trading. That can result in hundreds of millions being left on the table, he says, because the company could have gotten a higher price for its shares. Andreessen Horowitz partners Alex Rampell and Scott Kupor disagree. They say prices in a traditional IPO are set by supply and demand. "There's a popular narrative that evil investment bankers are intentionally underpricing traditional IPOs to steal from companies … this narrative is almost completely false," they write.
Another reason Hippo CEO Wand likes SPACs: "Because it's a merger, you can negotiate everything." You can negotiate the sponsors' stake to be 5% instead of 20%. "You can say they'll only get their 5% if the stock goes above a certain price," he adds. In an IPO, the process is more established and formulaic.
Many companies that pursue SPACs also use PIPEs, or private investments in public equity, to simultaneously raise more money. Let's say a SPAC raised $250 million. Before the SPAC merges with a target company, a group of large investors like Fidelity could invest another $250 million through a PIPE. Wand likes PIPEs because they're a guaranteed commitment (SPAC sponsors can bail out of the deal at the last minute), and they're seen as a vote of confidence in the company, since new investors are coming in with full knowledge of what firm will be acquired.
Possible Targets For Hippo?
Cascade Acquisition Corp. 200m insurance in description
East Stone Acquisition Corp esscr 0.23 declared fintech… Online lending is one….Credit data analytics is two…one more is the one I am excited the most….it is a insurtech, insurance platforms with AI…. even though online lending seems cool also….
Are People Going TO Care?
So does LION compete with Hyliion HYLN?
Most are saying NO – as the hyliion can go over 1,000 miles .. but also needs a seperate fuel source. And is also carbon negative vs Lithium only.
But… truckers can only legally drive 650 miles max per day.
Lions can't compete with LONG range trucks right now
But are a great solution for under 150miles a day
Home Loans Are Doing Amazing At Record House Sales Across The Country?
"more than $31.2 billion across 800 loans have been granted forbearances thus far based on September remittance data, which represents about 5.5% of the non-agency CMBS universe" – Trepp
How About Commercial Payments
The Trepp Special Servicing rate saw an increase of 44 basis points in September, coming in at 10.5 percent, compared to 10.0 percent in August. Like the last few months, the surge could be attributed mainly to an increase in the retail and lodging special servicing rates. The retail special servicing rate clocked in at 18.3 percent in September, up from 17.3 percent in August.
The lodging special servicing rate came in at 26.0 percent, up from 25 percent in August. Both the lodging and retail CMBS special servicing rates were the highest reported on record. The overall CMBS special servicing rate is the highest rate recorded since May 2013. Going forward, it is likely that the special servicing rate will continue to increase in the coming months.
BitCoin
After all the hype around blank-check companies earlier this year, things have gotten ugly, with those shares selling off amid a stock-market rout.
The Defiance Next Gen SPAC Derived ETF (SPAK), which primarily tracks companies that raise money for buying businesses, has plunged more than 14% since its October debut. Online sports-betting company DraftKings Inc. has tumbled about 40% this month, while Virgin Galactic Holdings Inc. — a developer of space vehicles — is down about 9%.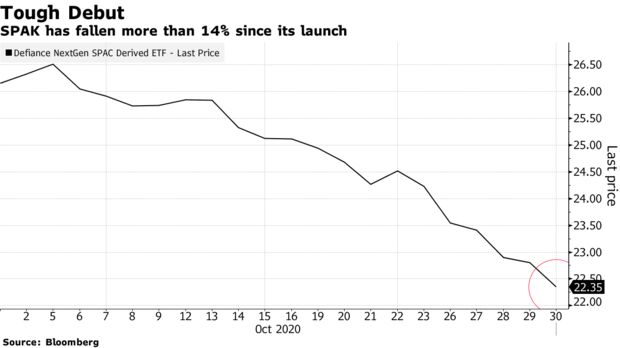 Special purpose acquisition companies, or SPACs, have become a hot area of the market as a way for purchasers to avoid the costly and time-consuming initial public offering process. Instead, they sell shares of a company that has no operations, promising to use the money within two years to buy a private one. But after a giant rally in 2020, those stocks were engulfed in the market rout, and extended losses on Friday as volatility remained elevated heading into next week's presidential vote.
"Considering the serious uncertainty about another stop-gap plan from the U.S. government and next week's elections, it does not surprise me that there is hesitation about adding more money to the so-called blank-check investment space," said James Pillow, managing director at Moors & Cabot Inc.
So Are SPAC's Dead Or Buy The Dip And Dont Be A Sally?
How About Hyliion?
So Should We Start Buying High And Selling Low?
Or is it best to go back to basics and buy SPAC's before they are cool?
Could SPAC's and many other newer to market IPO's go back to moon after election?
SPY
SILVER
Another Hedge For Coming Dipsky/HulkSmasharooni
BNKD -3x Inverse Big Bank ETN