Beginning today, NCAA will let athletes get paid for their "name, image, and likeness. 'NIL.' Here's what that means.
Everything you need to know about one of the biggest changes to hit college sports.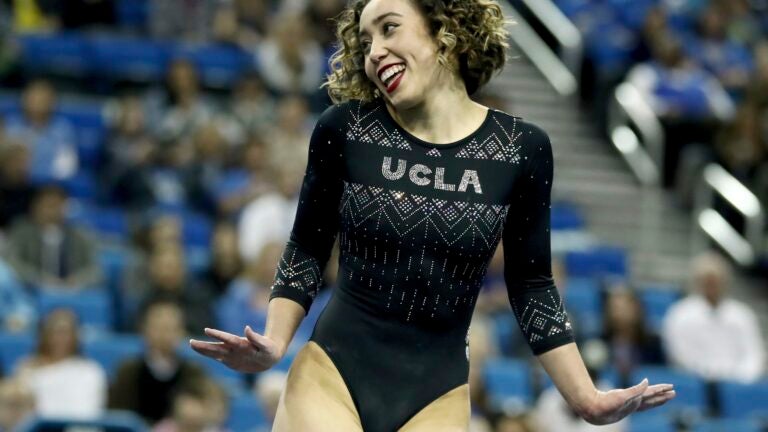 Beginning Thursday, the NCAA will allow its athletes to profit off their own personas — something they hadn't been able to do in the past.
College athletes aren't getting what they deserve
"I was that college athlete, I experienced that lack of opportunity," Wimbush says. "The Miami game was one of the most-hyped games. I could have done a lot."
It started PER state and guess what?
Had the NCAA not changed the rule in some form, schools in eight states with new laws this year would gain a significant edge when it comes to recruiting athletes. It would be a lot easier to sell a Division 1 swimmer on going to school in Florida than, say, Michigan, because the athlete could profit immediately.
Alabama
Former Notre Dame QB Brandon Wimbush's internet start-up seeks to help current players make money by matching them with endorsement deals.
Alec Gores
It will reduce corruption and students should get paid end of story
Why do we CARE??
The world's largest collectibles and trading card company is getting into college sports. Panini America, the exclusive trading card manufacturer of the NFL, NBA, MLBPA, UFC, NASCAR and others, announced a multi-year agreement with group licensing powerhouse OneTeam Partners.
The exclusive deal, which includes the rights for both physical and digital trading cards, comes as Panini looks to tap into the newly accessible collegiate market, now open to the company thanks to NIL.
The deal gives Panini access to OneTeam's College Athlete Group Licensing program portfolio of current men's and women's college athletes. OneTeam recently announced partnerships with athlete marketing platforms Opendorse and INFLCR, both of which have large operations in college athletics that give them access to hundreds of athletes now able to opt in to OneTeam's group licensing program.
Panini will be able to produce, distribute, promote and sell college trading cards featuring any of those NCAA athletes.
OneTeam said college athletes will have the opportunity to opt in to a group license agreement specific to Panini in the coming weeks. Panini expects to launch cards across schools and several sports this fall, including football, men's and women's basketball, baseball and Olympic sports.
addition to traditional, physical card sales, Panini will tap its NFT blockchain and Panini Instant, an on-demand, direct-to-consumer platform that highlights sporting events as they happen, for digital card distribution.
Panini also said it has plans to launch on-demand, co-branded college and player products this fall using its existing college licenses. Panini America's CEO Mark Warsop said OneTeam's group licensing program will help his company
"reach a wide range of athletes across multiple schools and develop products that cut across all sports on both the men's and women's side."

"For the last six years, [Panini] has produced collegiate trading cards with alumni in select sports as well as recent athletes that have declared to go pro," said Jason Howarth, VP of marketing at Panini America. "NIL expands that opportunity to current college athletes to integrate into existing collegiate products where it's allowable… and potential NIL-specific products that we will look to explore. The group licensing element gives us the ability to highlight more college athletes and not just the top players."
OneTeam launched in late 2019 as a joint venture between the NFLPA, MLBPA and RedBird Capital Partners to leverage the brands of stars like Patrick Mahomes and maximize the collective value of pro athletes' NIL. The firm represents the commercial business interests of the athletes of the NFLPA, MLBPA, MLSPA, U.S. Women's National Team Players Association, WNBPA and U.S. Rugby PA.
Panini announces NIL deals with select college QBs including Matt Corral
Trading card collectors will have new items to hunt down this fall as official college football trading cards will soon be released.
That's according to licensed collectibles company Panini, which has announced it has signed a select group of college quarterbacks to exclusive memorabilia deals. These deals are all legal following the legalization of name, image and likeness. The first three college football players that will have deals are all quarterbacks as Matt Corral of Ole Miss, D'Eriq King of Miami and Graham Mertz of Wisconsin have been announced as exclusive partners with Panini.
"NIL has created an opportunity for us to work with college student athletes in a new way. We are committed to working with these athletes under the new guidelines, ensuring they are compliant and maintaining the integrity of the college student athlete," said Panini America CEO Mark Warsop. "We are excited to partner with these great players to grow their personal brands and connect them to their fans through autograph memorabilia and trading cards. Starting our relationship with these athletes under NIL is just the first step in what will be a very long partnership with us as these players compete on the collegiate football field and make their way to becoming athletes that play at the professional level."
Panini to Make College Athlete NFTs, Trading Cards Through Licensing Deal With OneTeam Partners
Collectibles company Panini America will begin making physical and digital trading cards of college athletes through its new group licensing deal with OneTeam Partners, the marketing rights firm founded as a joint venture between the NFLPA, MLBPA, and RedBird Capital.
Panini's multi-year agreement gives the company rights to produce and sell trading cards of current men's and women's student-athletes who opt-in to OneTeam's College Athlete Group Licensing program, which the firm established in light of the NCAA's new rules allowing athletes to benefit from their name, image, and likeness.
"With [Panini's] existing current college licenses, there is an amazing opportunity to make co-branded college and current college athlete cards for the first time in history—across schools and men's and women's sports," Ahmad Nassar, CEO of OneTeam, said in a statement. "The group licensing model is key to including athletes in broad-based licensed products like this."
Panini has plans to make cards for college players across football, men's and women's basketball, baseball and Olympic sports. The Panini Instant trading card platform will also extend to include college athletes.
DraftKings Will Open Sports Bars to Create Betting Venues
DraftKings plans to open its own sports bars in partnership with Sports & Social, a chain of sports bar and dining venues owned by The Cordish Companies. DraftKings' first locations will open in Nashville and Detroit, pending regulatory approvals.
The sports betting operator has contracted design firm Icrave to help design the upscale sports bars, which will offer dining and gaming. DraftKings began as online fantasy sports operator before moving into legalized betting. It has recently struck deals with MLB's Chicago Cubs and the PGA Tour to open retail sportsbooks at Wrigley Field and TPC Scottsdale in Arizona.
"Today, so much of sports betting is focused on the mobile-technology aspect, however the in-person experience is an integral layer that we look forward to advancing alongside Sports & Social's premier dining and entertainment offerings," Ezra Kucharz, chief business officer at DraftKings, said in a statement.
Several Sports & Social's dining clubs are located in the nearby entertainment complexes of sports stadiums, including Globe Life Field in Texas, Truist Park in Atlanta, and Busch Stadium in St. Louis. Many of the venues serve in conjunction with Live!, a casino and entertainment brand also owned by Cordish Companies.
Former baseball superstar Alex Rodriguez's SPAC and iconic Italian sticker brand Panini are in talks for a $3 billion merger, report says
I had Instant FOMO
This sold me here too
How should you play it Playa?
OR
these warrants at lets just say 1.5$ IF stock goes to 15$ should be right around 3$
$5000 profit WITH risk
NBSTw